Guest Book Briefs
Cora. British Guiana & Altlanta

You are both in the right business. Your kindness, friendliness and patience says a lot so I stayed 5 days. This is my first ever B&B and due to you, it is just the begining of a new way of travel at age 70.


Ralph and Uta. Birstein, Germany.

New Zealand is the southern most paradise. Auckland is the jewel. Sailing on the harbour at Christmas time with Captain Keith was our best adventure.


Jimmy Umberto. Sicily, Italy.

An amazing location and great food.


Yoshiko, Setuko, Sumiko, Kimiko & Tatsuro. Oasaka, Japan.


We truely appreciate your warm hospitality for 6 days by the beach. It is very peaceful here. Great sailing too.


Neil, Lorraine and Lesley. Victoria, BC.

A fantastic afternoon of sailing. The wind was great and the yacht crew very competent. A wonderful bonus for our stay. Yet another memory to take back to Canada.


Sue & Al. Bethany Beach, Delaware.

Weather was sunny but breezy and perfect for a sail. I can promise you this is a highlight in our travels. Keith you are a fun and competant skipper.


Terence & Roy. Singapore.

The best Bed and Breakfast I have have ever had! Breakfast was outstanding and hospitality top notch. (Who needs the Marriot when you have the Nautical Nook.) We arrived for the Regatta just expecting a roof over our head but your first class hospitality and flexibility blew past our expectations. We experienced the kindness of New Zealanders.
Complimentary Sailing with Nautical Nook
Weather permitting, we'd love to take you for a days free sailing on the sparkling waters of Auckland's Waitemata Harbour and Hauraki Gulf to view and visit some of the many islands in the Gulf.
Occasionally, for a number of reasons, weather being one of them, sailing may not be possible. For this we apologize in advance. However, We are sure you'll agree that our location is fantastic and our tariff very reasonable even without the free sailing.
Boat shoes or white soled footwear required.
Relax, unwind or take the tiller! - Show us how good you are! and don't forget to bring your camera and video camera.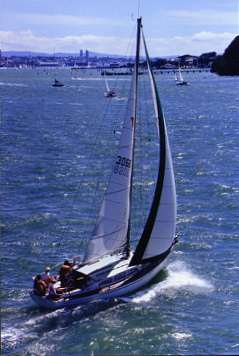 So come sailing with us during your bed and breakfast or homestay visit in Auckland, New Zealand.
The Nautical Nook:
23b Watene Crescent, Okahu Bay, Auckland, New Zealand
Phone +64-9-521 2544 Mobile (027)4397 116